This post brought to you by Cooper Tires. The content and opinions expressed below are that of Cozy Country Living.

Spring is officially here and if you haven't experienced subtle signs of the seasons changing, I'm sure you will shortly!  I always think of Spring as a time to get everything around our house freshened up and ready for the upcoming months.  I started this week by opening all of the windows and washing down the walls.  It's a great feeling knowing that your home is cleaned top to bottom!  When you are "Spring Cleaning" week, don't forget to carry that feeling over to your vehicles!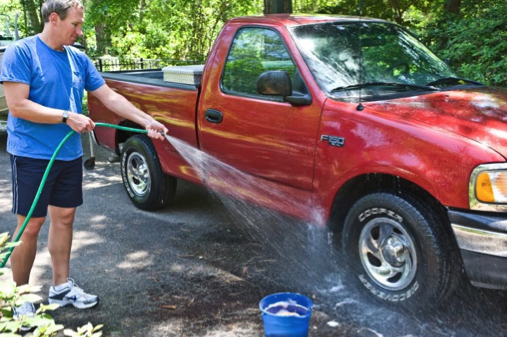 With nicer weather and more opportunities to travel this Spring, make sure your family's vehicles are Spring ready!  The most important part- your tires! Cooper Tire Spring Event has numerous Cooper Tires for great prices!  Now through April 15, customers are eligible to receive a prepaid Visa card worth up to $70 when purchasing a new set of four qualifying Cooper Tires through participating dealers.
Traveling in a large family vehicle?  The Discoverer SRX are a dedicated SUV and CUV tire that is available in 30 different sizes. The Discoverer SRX tires fits a wide selection of SUVs and CUVs, and features Cooper's innovative Wear Square, the company's exclusive visual tread life indicator.  The Wear Square is located at six points of reference around the inside and outside of the tire tread. Throughout the tire's lifetime, the square changes shape beginning with a full square and ending with an exclamation mark when tire tread is low, you to quickly and easily assess the approximate tread remaining on the tires.  The Wear Square can also signal uneven tire wear and possible wheel alignment issues which is very important when you are carrying precious cargo.
The Discoverer SRX tires not only offer a premium 65,000-mile Tread Wear Protection Warranty and a 45-Day Road Test guarantee ensure a confident choice and smooth ride for SUV and CUV drivers but, if you aren't satisfied with your Discoverer SRX tire purchase you may return them to your original dealer within 45 days of purchase for a FREE OF CHARGE Cooper brand replacement only, including mounting and balancing.  So you have nothing to lose!
This weekend, don't waste any time!  Clean out your car, wash it, wax it and head down to Cooper Tires to take advantage of their Spring Event.  Cooper Tires will make sure you're taken care of the next time you and your family hit the road for a vacation or even a quick trip to the grocery store!  Use the Dealer Locator to find a dealer near you!