Slow Cooker Stuffed Peppers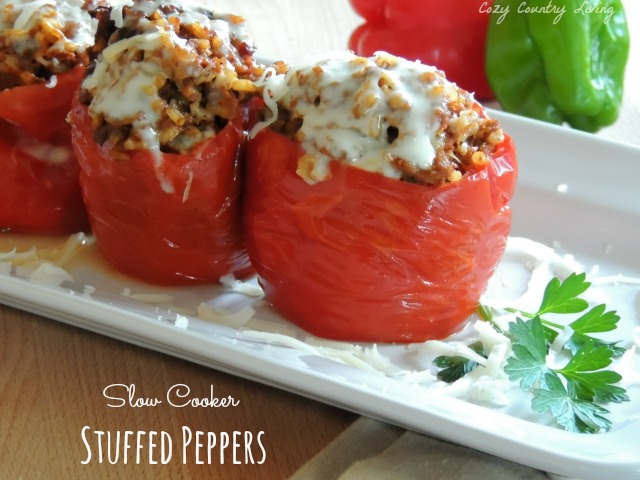 I'm so excited to get back to using my slow cooker!  I love preparing dinner in the morning and not having to think about it all day.  In the fall, I use my slow cooker to free up some time during the day so I can get outdoors and do some fall gardening.  I have beds to clean out, perennials to trim back and bulbs to plant, so having dinner taken care of is wonderful.  When you are harvesting the last crop of vegetables out of your home garden, your slow cooker is great for cooking soups and other comforting meals.
We were blessed that our garden produced a lot of peppers this year.  Fresh peppers are so delicious and at our house I use them in veggie platters, chili, soups, omelets and my family's favorite Slow Cooker Stuffed Peppers.  These peppers cook all day in the slow cooker
, stuffed with beef, brown rice, tomatoes and a tasty blend of spices and cheese.  When these are finished cooking, the peppers are perfectly tender and the filling is melt in your mouth delicious.  Serve these warm peppers with a fresh salad and some crusty, buttered bread for a cozy dinner any time of the week.  You can even use a variety of colored bell peppers for a slightly different flavor.  What's cooking in your slow cooker this fall?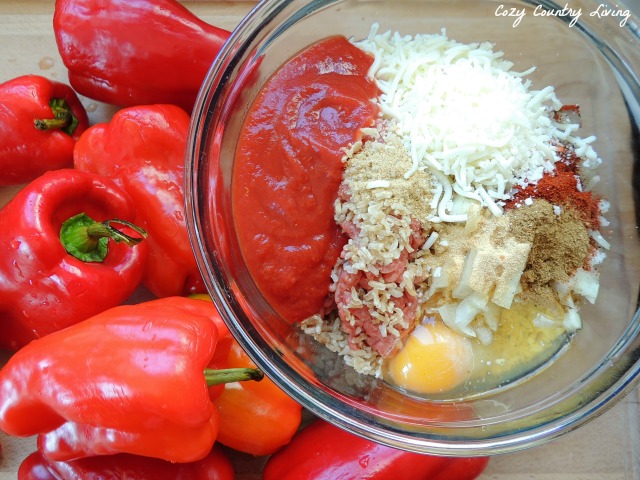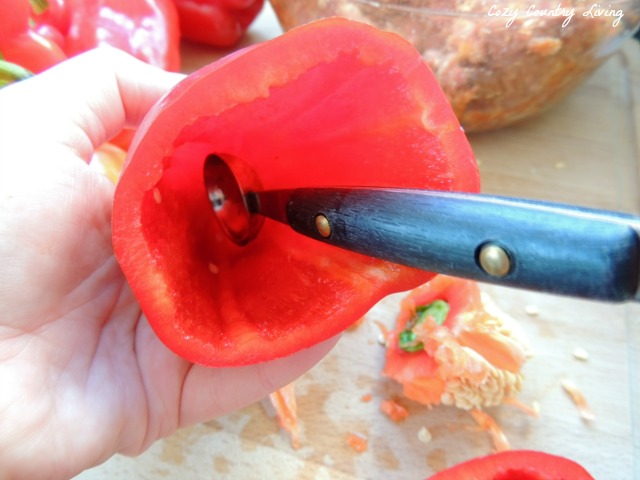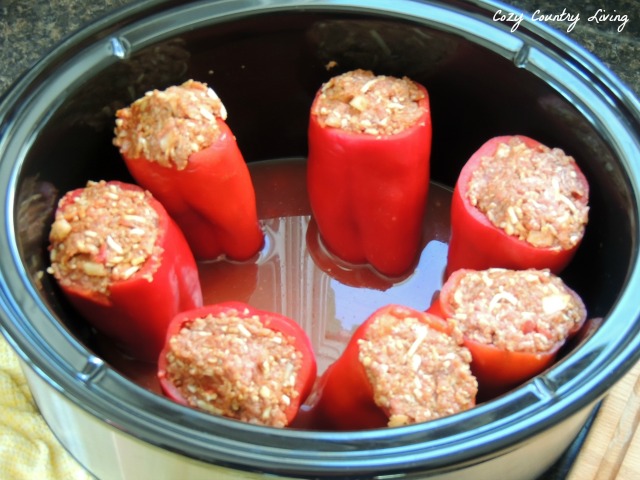 Slow Cooker Stuffed Peppers
Ingredients
6-8 large bell peppers
1 lb. 80 % lean ground beef, uncooked
1 cup instant brown rice, uncooked
1 small onion, finely chopped
1 egg
15 oz. crushed tomatoes
1 Tbsp. chili powder
1 tsp. garlic powder
1/2 tsp. cumin
1 tsp. seasoned salt
1/4 tsp black pepper
1 cup Mozzarella cheese, shredded plus more for topping
1 cup beef stock
1/2 tsp. salt
Instructions
Wash your peppers well and set aside.
In a medium sized mixing bowl, combine the beef, rice, 1/2 of the crushed tomatoes, egg, seasoned salt, black pepper, chili powder, cumin, garlic powder, Mozzarella cheese and onion and mix well.
Cut the tops off of the peppers and scrape out the membranes and seeds.
Stuff the peppers and arrange in the slow cooker.
In the mixing bowl, combine the other half of the crushed tomatoes, the beef broth and 1/2 tsp. salt.
Pour in the bottom of the slow cooker.
Cover and cook on high for 6 hours or on low for 9 hours.
During the last 5 minutes, top with Mozzarella cheese if desired and cover until melted.
Serve warm with a fresh salad and crusty bread.
Serves 6-8.
* This recipe can be doubled if you want to fill your larger slow cooker to feed a larger group of people.
Enjoy!
http://www.cozycountryliving.com/slow-cooker-stuffed-peppers/
Copyright ©2013 Cozy Country Living ®All Rights Reserved
 Some of the links in the post above are "affiliate links." This means that if you click on the link and purchase the item, I will receive an affiliate commission.  I only recommend products or services that I personally use and believe will add value to my readers. I am disclosing this in accordance with the Federal Trade Commission's 16 CFR, Part 255: "Guides Concerning the Use of Endorsements and Testimonials in Advertising."
*Linking up at I Should Be Mopping The Floor
*Linking up at Tumbleweed Contessa
*Linking up at Keeping It Simple Crafts
*Linking up at Skip To My Lou
*Linking up at Rain On A Tin Roof
*Linking up at The Frugal Foodie Mama
*Linking up at The Foley Fam
*Linking up at Pint Sized Baker
*Linking up at Love Grows Wild
*Linking up at Nap Time Creations
*Linking up at Our Table for Seven
*Linking up at Chef In Training
*Linking up at Ginger Snap Crafts
*Linking up at Hope In Every Season
*Linking up at Dizzy, Busy and Hungry
*Linking up at A Peek Into My Paradise
*Linking up at Ashley's Dandelions Wishes
*Linking up at Mom's Test Kitchen
*Linking up at Savvy Southern Style
*linking up at Mostly Homemade Mom
*Linking up at The Taylor House
*Linking up at A Stroll Thru Life
*Linking up at I Gotta Create
* Linking up at Joyful Homemaking
*Linking up at Once A Mom Always A Cook
*Linking up at Six Sister's Stuff
*Linking up at Best Blog Recipes
*Linking up at Serenity Now
*Linking up at Diana Rambles
*Linking up at Cheerios and Lattes