When I started this blog 2 1/2 years ago, it took me a while to come up with a name.  I knew I loved being at home, feeling completely comfortable and cozy with my family and making them feel like this place, our home, is something special.  We had just moved to the country and all I could dream about was how we would someday make this into the home of our dreams.  The word cozy to me means a comforting and safe place.  A place that my family could spend time together, learn and grow together contently.  I finally decided on Cozy Country Living and that's exactly what I want my family and friends to feel when they come over or stop by the Blog.  Cozy Country Living is about sharing and inspiring people to create that perfect place and sense of home in their own homes for their own families.  Today I am so very excited to share my new Living Room complete with amazing furniture from Raymour & Flanigan with you all.  It's most definitely a space that I put a lot of thought into and a space that my family will be able to enjoy together for many, many years.  So here it is!  My Big Living Room Reveal!
Only 3 Days after I visited Raymour & Flanigan and placed my order, the delivery truck pulled into my driveway!  The delivery men were very careful carrying the light colored furniture into our home, especially with the muddy mess that we had outside from the melting snow.  In a little over 30 minutes my furniture was all set up in my Living Room and they were on their way!  Great service!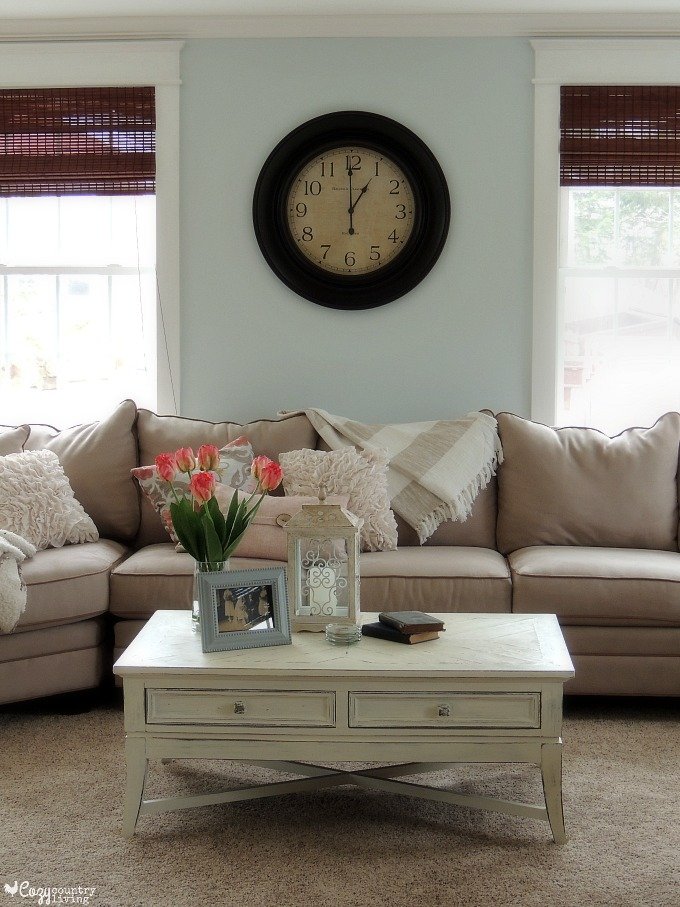 When I visited Raymour & Flanigan last month to purchase the furniture for my Living Room, I fell in love with the Foresthill Sectional Sofa.  Not only was this sofa extremely comfortable but it was perfect for the large space we had to fill.  I love the light taupe, neutral color that can be easily furnished many different ways throughout the year.
I purchased the 5 pc. Foresthill Sectional and an additional "cuddler" section to make sure the sofa would wrap around nicely from one end of the room to the other.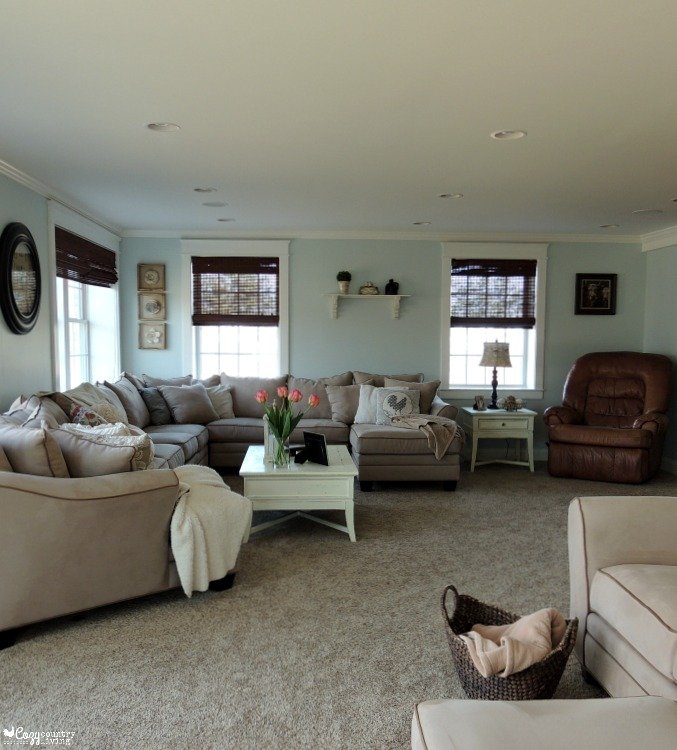 The best part about this sofa is that all of the pieces are individual and finished on all sides, allowing them to be moved around and styled many different ways if need be.
Everyone seems to have their own favorite spot on this large sofa, but my favorite spot is on the end, on this lounger.  My husband and my children have been teasing me because the moment the furniture arrived, I have made it my little office.
I like to grab my laptop, a cup of coffee (By the way, one morning I did accidentally drip coffee onto this sofa and it beaded up and wiped away easily with a wet wash cloth and no stain.  Amazing!) stretch my legs out, get cozy and work from here.  I simply love it!  My children have also begun calling me "Ms. Cozy" and since it's sort of my spot, I figured it wouldn't quite be complete without my rooster pillow.
Speaking of pillows, I just can't seem to get enough of those either!  Spring has finally arrived here in Western New York, so I really wanted to bring in pretty and soft hints of color that would blend well with my pale blue walls.  This sofa came with several matching, piped edged pillows which was a perfect start.
I added a few soft, ruffled cream colored pillows, and a few damask patterned down pillows for a feminine and romantic type feel.  Tulips are my favorite flowers, so displaying them on the coffee table really helped pull together the color from the other accent pillows I had.  Getting really comfy on this furniture isn't too hard either.  The seats are deep and you can really find a perfect spot just about anywhere on it!
Even though the sectional is the primary focus of this space, I still needed a little more seating over along the stairway.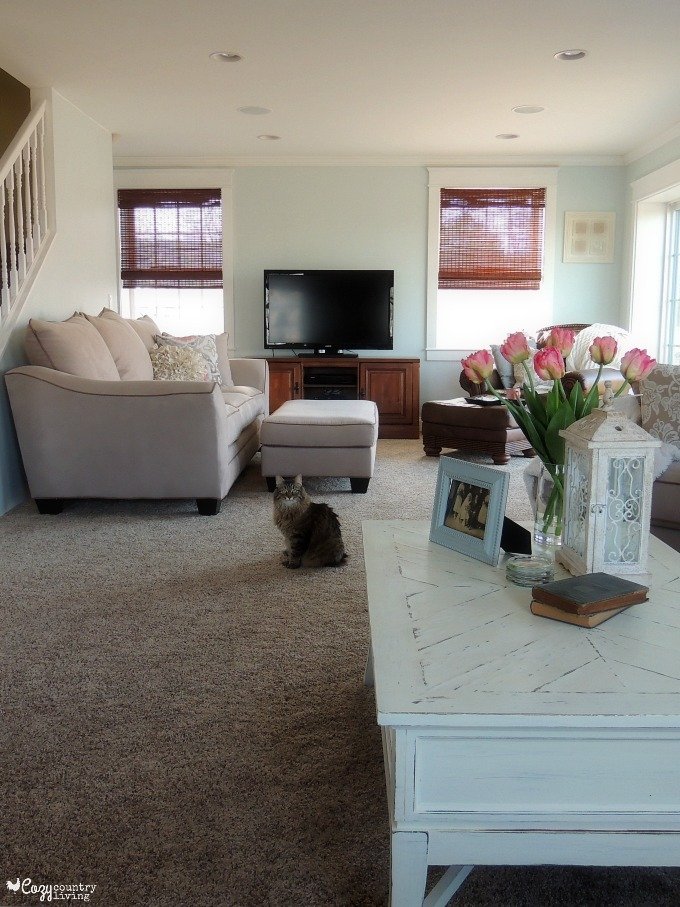 The Briarwood Microfiber Sofa and Double Ottoman match the Foresthill Collection perfectly and fit along that wall nicely, giving family and guests a nice view of our property and out into the woods.
Since I didn't like our television mounted high on the wall like it was in our old space, I purchased the Sierra Console that features that warm wood color and slight distressing I love.  This console fits perfectly in the space between the back windows and even allows us room if we decide on a larger television in the future as well.
I really like that there is an individual shelf for the cable box and for the Blu Ray player which doesn't look crowded or busy.  The cabinets and the bottom drawer also are nice for DVD storage.
I moved only one piece of our older furniture into this new space.  This darker chair and ottoman were not as worn as my old sofa and loveseat.
I also thought that with all of the lighter colors now in the room, this piece, outlined in a detailed wood, helped carry that warm color throughout the room and helped pull together the flooring from our open kitchen and our bamboo blinds.
This Living Room has become the heart of our home (along with our kitchen) and I am looking forward to sharing more of my home with my family, friends and you throughout different seasons and the rest of the year!
So what do you think?
 I partnered with Raymour & Flanigan to furnish my Living Room.  All opinions are as always 100% my own.
*Linking up at The SITS Girls, Table for Seven, Skip To My Lou, Home Stories A to Z, Savvy Southern Style, Place of My Taste, Yesterfood, Stone Gable, Karen's Up On The Hill, Elizabeth & Co., My Uncommon Slice of Suburbia, Just a Girl and Her Blog, Carolyn's Homework, The SITS Girls, Diana Rambles, Coffee With Us 3, Rooted In Thyme, It's Overflowing